The Division of Finance and Administration recognizes the contributions of every employee or team to the overall mission and strategic plan of the university. Our Employee Recognition Program is designed to provide avenues for those efforts to be acknowledged publicly. Every day presents an opportunity for colleagues, co-workers, and managers/supervisors to recognize the great work of our people in the following categories:
Review the category descriptions and examples below, and select the appropriate category for your nomination.
The program has four quarterly cycles. The deadlines for nominations for each cycle are: Dec. 31, March 31, June 30, and Sept. 30. All nominees are featured on our website and recognized at our town halls and annual picnic (October, January, April, and July). All nominees receive a digital certificate as well as a printed certificate, upon request.
Questions? Email WithUForU@uci.edu

CARE
Customer Appreciation Repeatedly Expressed
This award is for teams and/or individuals who:
Takes the initiative to improve the value and efficiency of the services they provide
Maintains a consistently high quality of service to campus customers including students, faculty, staff, alumni, and external clients
Consistently and substantially demonstrates an ability and willingness to work positively, respectfully, and effectively with others
Builds strong relationships with customers; proactively reaches out to learn about customer goals and interests; stays aware of customer needs, concerns, and satisfaction

IDEA
Innovate Discover Encourage Achieve
This award is for teams and/or individuals who:
Developed an idea that moved the division and the campus forward or continuously comes up with creative ideas by producing a wide-range of suggestions
Significantly improved a work process or system, or has significantly increased the efficiency of an operation or department/unit
Demonstrates significant improvements in student or staff services or enhanced student or staff satisfaction
Participates in collaborative problem-solving, breaking down boundaries and/or creating new relationships to improve the way work gets done
Embraces change as an opportunity for growth and innovation
Takes a proactive and innovative approach toward finding sustainable solutions to business challenges
Demonstrates a high degree of financial responsibility coupled with sound judgement

SAFE
Safety Award for Excellence
This award is for teams and/or individuals who:
Excel in creating and maintaining a safe and healthy workplace
Hold an excellent workplace safety record (i.e. no accidents/injuries in the last year or longer)
Reports hazards, slips, trips, falls, near misses, etc. in a timely manner

TEAM
Together Everyone Achieves More
This award is for teams and/or individuals who:
Works effectively as part of a team to successfully accomplish a task or meet a goal
Builds effective collaborative relationships across different groups of departments within the organization to define and solve problems
Creates a team environment that promotes communication, trust, cooperation, and respect for differences
Develops a partnership that seeks input and involvement of those affected by decisions
Successfully reach achievements that exemplify campus or systemwide collaboration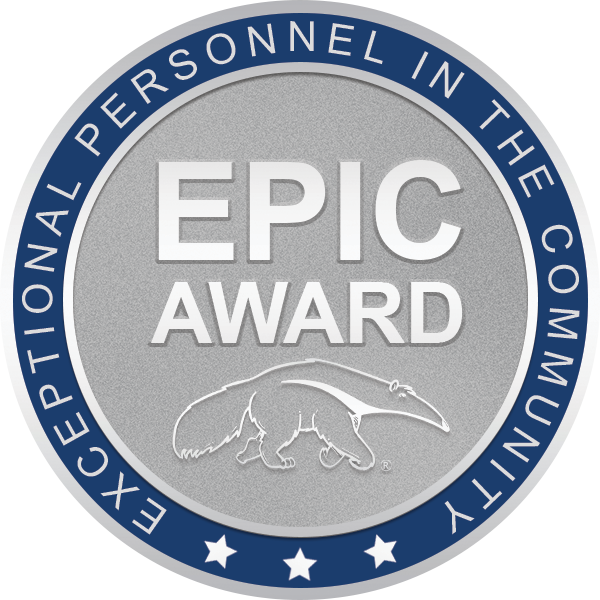 EPIC Award: Exceptional Personnel in the Community
In addition, CFO and Vice Chancellor Ron Cortez is provided the opportunity to recognize Exceptional Personnel in the Community with an EPIC coin. The EPIC coin is awarded to employees who best exemplify and contribute to the university's strategic plan, core ideas, and values. This coveted award does not follow the nomination procedures for the four above categories, and can be given to employees at any time.